Sleep Innovations Memory Foam Mattress Review

,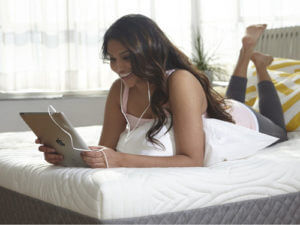 In the mattress industry, every brand isn't similar to others and has differences in all aspects like firmness, quality, longevity, features, etc. Even two mattresses that seem to have the same components have totally different performance. If you just compare specifications, you will get the right mattress. Sleep Innovations is one of most popular brands out there and their mattresses are well made in the USA. The product line is long from 8-inch to 14-inch. Their mattresses are well known for being economic and cost-effective because they're one of a few US made models in the low-priced mattress market. Let's find out what characteristics Sleep Innovations mattresses have and check if it's well suited for you.
1. Most models on the firm side
Sleep Innovations has a wide range of heights available from 8 inches to 14-inch. All mattresses are on the firm side and firmness grades are between 7-9, 1 is softest and 10 is firmest. However, mattress description states mattress feel are medium and medium firm. That's not accurate and misleading customers. Sleep Innovations mattresses are firm but still lightly cradling your body. Such design helps align your spine naturally and provides needed support for lumbar areas. Firm mattress has some advantages. First, it tends to hold less body heat and increase temperature to make sleeper feel overheating and uncomfortable because you have smaller contact face with the mattress. Secondly, it's more durable to some extent and lasts longer. Thirdly, it's friendly to people who have trouble in moving or getting out of bed. For people who like soft mattress, Sleep Innovations mattresses aren't ideal options.
2. Great for back and stomach sleeping or heavy persons
Do you sleep on your back, side or stomach? Different sleeping positions have different requirements for firmness and depth you sinking in. Sleep Innovations don't allow people of average weight and height sink too much and provides slight cradling comfort. Their mattresses are better suited for back and stomach sleeping. Side sleeping position needs a little bit more sinking depth to give lumbar areas soft support. However, this would not be a big problem for people weighing above average because their weight compresses the mattress and let them sink more. Those who aren't more than 150 lbs tend to feel too hard like laying on the floor.
3. Give an undisturbed sleep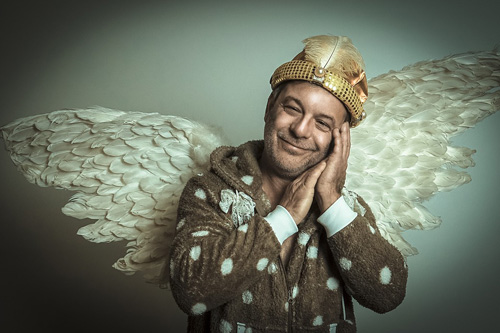 If you want to buy a memory foam mattress to have a quiet sleep, Sleep Innovations memory foam mattresses won't let you down. All mattresses absorb movements and vibrations produced by sleepers when you or your partner gets out of the bed for snack, drink or bathroom. You hardly detect his or her motions and won't be woken up from your sweet dream. That ensures you a quiet and sound sleep.
4. Remove back pain
Like all memory foam mattresses, Sleep Innovations molds to your body shape and offers cradling comfort. The softer top layer provides needed support for recessed areas like lower back and lumbar regions. That helps avoid your extra body pressure flowing into the touch points such as upper back and hips between mattress and your body. In this way, it removes pressure points and reduces back pain you have on your old spring mattress. When every inch of your whole body gets well support, you don't toss and turn or change sleep positions as many times as you did.
5. Sleep Innovations mattress background
Sleep Innovations released their memory foam mattresses about 4 years ago and at that time they had only four models, three of SureTemp series and one gel swirl. Sleep Innovations 10-in SureTemp was one of best sellers in mattress category because their US made quality and cheap price. In 2015, Sleep Innovations expanded the product line and renamed all models. SureTemp series is replaced by person names like Taylor and Shea. Now the whole family of Sleep Innovations has seven members, Sage 8-inch, Shea 10-inch, Marley 10-inch, Shiloh 12-inch, Taylor 12-inch, Skylar 12-inch and Alden 14-inch. Sage, Marley, Taylor and Skylar are new gel memory foam models. Shea and Shiloh are updated versions of SureTemp series. Sleep Innovations don't sell their products on the official website and primarily depend on third party online stores like Amazon. The role Sleep Innovations plays is more like a manufacturer instead of a seller.
6. Simple layer design
Sleep Innovations mattress usually consists of two or three layers and that's very simple design. By contrast, many brands cut their mattress into four or five layers, some even into seven like airflow layer, gel foam layer, latex layer, etc. The advantage of multiple layer design is that firmness increases with depth. That makes the mattress be versatile and accommodate sleepers of different sizes. Lightweight people sink less and heavy ones do more. Ideally, all people can find their perfect depth and feel comfortable and well supported. But simple two or three layer design memory foam mattress is relatively limited as it doesn't have that many layers of different firmnesses. Manufacturers can only make the top layer feel medium to accommodate as many people as possible.
7. Made in the USA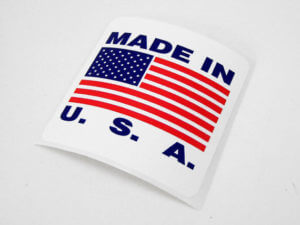 Sleep Innovations is one of few brands or manufacturers making mattress in the USA including materials they're using. Especially it's very rare to find a US made mattress in low priced mattress market. Low priced entry-level mattress market is saturated with imported cheap foams made in China. No one can make sure if they comply with US safety and manufacturing standards. They probably don't because many owners report their mattress lose firmness and cause back pain in a few months or a year. Yes, US made mattress also has the quality complaint but only a small proportion. I tend to believe they have poor quality control and only meet China domestic standards. Sleep Innovations memory foam mattress is 100% manufactured in the USA and domestic production guarantees highest US standards and quality go into each mattress. I always choose US-made products while shopping unless I don't have a choice.
8. CertiPur-US certified
Now more and more customers will check if a brand has CertiPur-US seal and treat it as an important factor in shopping process. Sleep Innovations also has the certificate from CertiPur-US but they don't show it in the product images. CertiPur-US certificate is a way to prove a mattress free of known toxins. Sleep Innovations doesn't need it to prove because each product is made in the USA and meets highest standards in safety and quality. Those Chinese memory foam mattress brands also get the certificate and use the seal in their product images. What I need to tell you that don't take it too seriously because any brand could send one foam for CertiPur-US test but use a different foam in mattress.
9. High owner satisfaction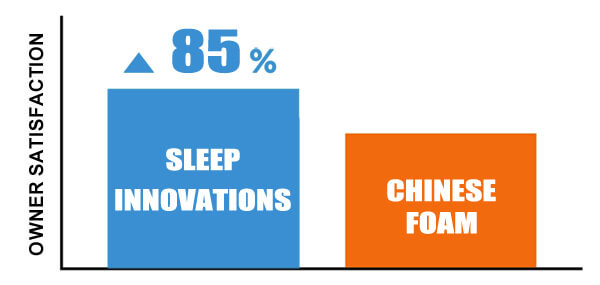 Sleep Innovations memory foam mattress has a high customer rating, overall 4.4 stars out of five. It also has a very high owner satisfaction and about 85% owners are very satisfied with the purchase. They rave about high value and cost ratio. Each product lives up to the buyer's expectation. It gives sleepers sweet dreams, removes back pains, conforms to their bodies and lasts for long. Such excellent results set it apart from most competitors with satisfaction below 80%.
10. No free trial & poor customer service
Sleep Innovations doesn't sell any memory foam mattresses on their site nor provide free trial for products. But you can get free trial from the third party sellers like Amazon. Amazon gives 30 day free return period to Sleep Innovations products so you can buy from Amazon and return it in 30 days without any risk. The third party sellers or stores are responsible for customer service. About Sleep Innovations service, owner reports aren't very good. They respond slowly and aren't helpful. I always recommend people buy from Amazon because their customer service is the best of best on this planet.
11. Lower price
Sleep Innovations is made in the USA and mattresses usually cost more than Chinese foams. But that's not always the case. The price range of Sleep Innovations mattress is approximately from $200 to $700. Most sizes of same heights are more expensive but not much, about $150 at most. Some heights have nearly the same price. Such low price strategy makes Sleep Innovations mattress more competitive and higher value/cost ratio. There is no reason to buy cheaply-made Chinese foam rather than US made mattress at similar cost.
12. Average 20 year limited warranty
Sleep Innovations gives 20 year limited warranty for memory foam mattresses. Warranty length doesn't mean how long the mattress will last. Sleep Innovations mattress quality and durability have been proven and tested by thousands of thousands owners and they are happy with it even after four or five years since it was released in 2011. Very few run into problems and need warranty service. But that doesn't say we don't need warranty. We should know more about it instead, especially for such a big online purchase.
Sleep Innovations warranty covers defects in materials and workmanship. The normal increase of softness doesn't apply but any visible sag greater than 1.5 inches does. During the warranty period, Sleep Innovations repairs or replaces the defective mattress and replacements are limited to once. Warranty doesn't extend after the mattress repaired or replaced. And owners are responsible for transportation costs to or from the factory. Owners are required not to open or close the zipper because it's only designed for manufacturing process. The cover it comes with should not be removed and washed for any reason and be free of stains and damages. That being said, you'd better get an extra waterproof protector to protect the mattress and the cover. The warranty also points out what foundation the mattress needs. The mattress should be placed on a supportive foundation like platform bed or slatted frames with horizon center support and/or a box spring. If it's not a proper foundation as said, the warranty will be void. The mattress is designed for sleep and you may not misuse it or Sleep Innovations will refuse the warranty service. Honestly, Sleep Innovations warranty is an average one, not good or bad, like many other brands. Most cheap memory foam brands under $1000 have the similar warranty with a few different terms.
13. Heat retention still there
Heat retention is a big issue of memory foam mattress. Old Sleep Innovations SureTemp series that is just regular memory foam without any airflow layers or gel foam failed in regulating temperature on the bed. Now Sleep Innovations follows the trend and adds more gel memory foam models to provide a comfortable and cool sleep. The number of owner complaints about sleeping hot decreases but the problem still exists. Some hot-natured people still feel overheating. Gel infused memory foam can reduce body heat trapping and it isn't the ultimate solution to heat retention. Until now, gel foam is the most effective technology to reduce sleeping hot issue. There're some other ways but they affect the sleep experience. For example, you can get a mattress pad between the mattress and your body. In that way, the pad distributes your heat instead of holding it to increase temperature. If you have a normal temperature while sleeping, you won't feel hot on Sleep Innovations memory foam mattress. If you aren't and feel hot on other types of mattress, you are more likely to feel too warm on their mattresses.
14. Too firm
Most negative feedback about Sleep Innovations mattress is it feels too firm or hard. The mattress refuses to allow sleepers to sink in and that makes it feel like a rock. Owners don't have any comfortable experience on it and it also causes back pain. This complaint primarily comes from people weighing below average. They're lightweight and cannot compress the top layer to cradle their body. If you're only a little more than 100 pounds, you probably feel hard too. But that's not the end of the world. A topper can make the firm mattress a heaven.
15. All available Sleep Innovations mattresses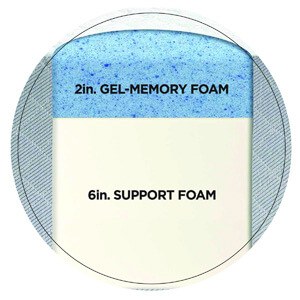 Sage is the lowest mattress in the whole family of Sleep Innovations. 8-inch height consists of 2-inch gel memory foam and 6-inch support foam. It's a very firm mattress and we rate 8 out of 10 in firmness grade. Grade 8 is meaning that it's firm and only allowing you to sink in a bit. That's perfect for people who are looking for really firm mattress. Sage 8-inch doesn't make you feel like floating on the cloud but only stable and solid. 8-inch is on the thin side for a mattress so it's not good enough people of large size as they may sink in too much and lose support. Sage is definitely a perfect choice for temporary use. Many owners buy one for their guestroom to serve visitors. Learn more…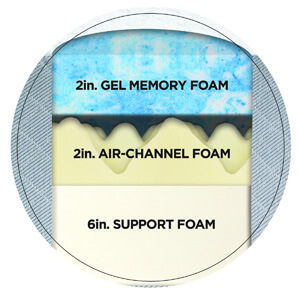 Marley 10-inch is a newer gel model of Sleep Innovations. The brand was reluctant, or slowly responding, to use gel foam in the mattress. The release of Marley and other gel models implies Sleep Innovations finally decided to follow the trend in the market and made some changes to respond customer complaints about heat retention issue in old SureTemp series. Marley has 2-inch gel memory foam, 2-inch airflow layer and 6-inch support foam. The gel foam is only 0.5-inch shorter than thickest models. That makes it a cost effective choice for people looking for cheap but thick gel memory foam mattress. Learn more…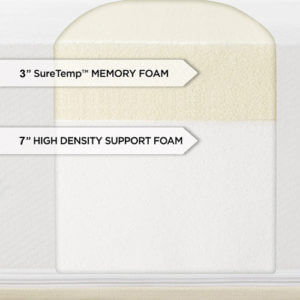 Shea 10-inch is one model of the old popular SureTemp series and it has nothing different from four years ago except the new name. The mattress has 3-inch SureTemp memory foam layer sitting on 7-inch foam base. Shea doesn't take advantage of gel infusing technology so don't expect that it will eliminate your sleeping hot issue. If you sleep hot on a spring mattress, you're going to feel hot too. But for people who have normal sleep temperature, the issue won't appear. Shea is relatively softer mattress in the whole series and gets 6 or 7 firmness grade. If you don't like firm mattress, Shea 10-inch will give you soft and plush feel. Learn more…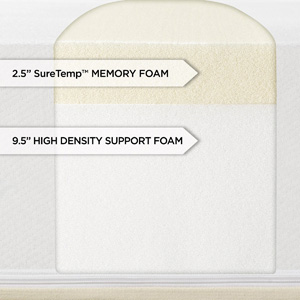 Shiloh 12-inch is another model of old SureTemp series released in 2011. Shiloh is very firm and we give it 8 or 9 firmness grade. If you're looking for a really firm mattress to offer you good support, you will like it. Although it's thicker than Shea, top memory foam layer is 0.5 inch thinner. It's not understandable as thicker models usually have thick memory foam. 2.5-inch SureTemp memory foam doesn't perform as well as gel foam in lowering temperature on the bed. But it conforms to your body very well and reduces back, shoulder and hips pain. In the entry-level mattress market, Shiloh 12-inch is a high value/cost ratio option because it's 100% made in the USA with superior quality materials. Learn more…
Skylar 12-inch has multiple layers including 2.5-inch cooling gel memory foam, 2.5-inch air flow ventilated foam and 7-inch support foam. The product description states it feels medium firm and great for side or back sleepers. Actually, it has firmness grade 8, which is close to the firmest grade 10. We don't give it 10 because it gives a little bit cradling comfort. Grade 10 represents feeling like a rock. Lightweight people need to think it over as they're too light and Skylar may not accommodate you at all. But it's not a big deal. A topper could change everything. For many people who feel hot and sweaty, the co-ordination of gel memory foam and middle airflow layers will give a comfortable bed with neutral temperature. Learn more…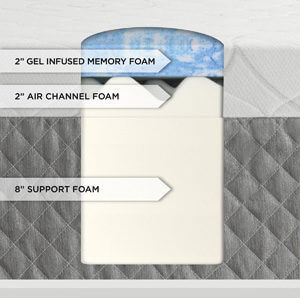 Taylor 12-inch is a firm mattress too and gets 8 out of 10 in firmness grade. That being said, people in the market for softer mattress may not like it. Taylor is an old model since it was released four years ago and has 2-inch gel foam layer, 2-inch airflow layer and 8-inch foam support. It's the same as Marley 10-inch except the bottom layer height. This mattress is better suited for average or oversized people. It molds to your body a little bit and offers solid and rigid support. Sleep Innovations Taylor is made in the USA and meets highest US quality standards. You don't need to worry if the mattress will break in one year. Learn more…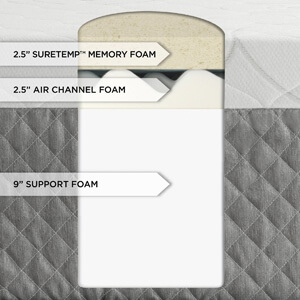 Alden 14-inch is the thickest mattress among all Sleep Innovations members. It has 2.5-inch SureTemp memory foam, 2.5-inch air channel foam and 9-inch support foam. The firmness grade is 7 or 8, which is close to the very firm side. Alden is very high but the top memory foam layer is only 2.5 inches, which is very thin compared to other 14-inch brands. It just adds extra height to support foam and makes it really rigid support. That's great for oversized people because they don't need to worry about bottoming out the mattress and feeling bed frames. Alden 14-inch is using old SureTemp memory foam on top of the air flow layer. SureTemp is just regular memory foam without gel beads and it may make hot natured people feel too warm on the bed. Learn more…