To find a comfortable mattress is more like to find the other to get married. They must be the right one for each other. It applies to any personal products. For people who have back problem, an appropriate mattress can help even remove the issue but it's a little bit tougher to find the right one. When some people don't feel better on several beds, salesman or other people usually recommend expensive brands like Tempurpedic. If you are one of them and going to fork out a fortune on it, I suggest you are cautious. Yes, the costly mattress is using expensive top quality material. But their owner reviews have proven that it wasn't the universal remedy for all. Like TempurPedic, owners also complained it was holding body heat, it was too firm and not help to backaches. Here are mattresses tested by a large number of customers and they are more likely the right one for you.
#1 Signature Sleep Contour 8-Inch Mattress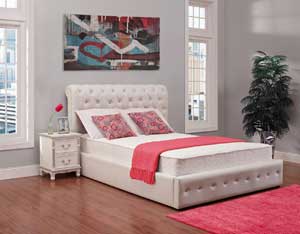 This mattress has a fantastic customer review, nearly 1100 reviews with overall 4.6 star rating. Actually, it's an innerspring bed with a foam top, more like a foam spring hamburger, the coil layer coming between two foam pieces. That means it features firm spring support and contouring comfort of foam. So it's on the firm side. Quote owners said, it was firm with soft skin. The double sided design enables owners to flip it over for more wear. And you will be glad to know that it's a US made product. Its price is at the reasonable level, exactly reasonably cheap level, about $350.
---
#2 Best Price Mattress 8-Inch Mattress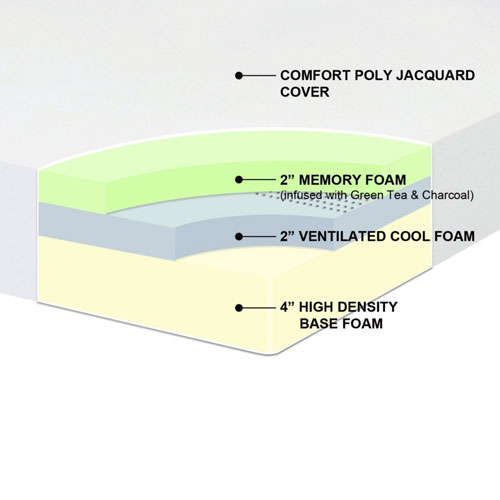 The second one has only half customer reviews of #1, over 600 with 4.5 star rating. It's 100% foam mattress, no spring, latex or something. It's featuring 4″ foam base and 4″ comfort layer. For an entry-level brand, it's a surprise to see 4lb medium density foam on top of it since competitions are using 3lb even 2lb foam. Denser foam will help it perform better in reducing pressure points and toss and turn at night. It's one of Certipur-US cetified mattress. That said, its durability & quality are tested and no heavy metal content within. The price is cheaper as the name suggest.
---
#3 LUCID® by Linenspa 8″ Firm Mattress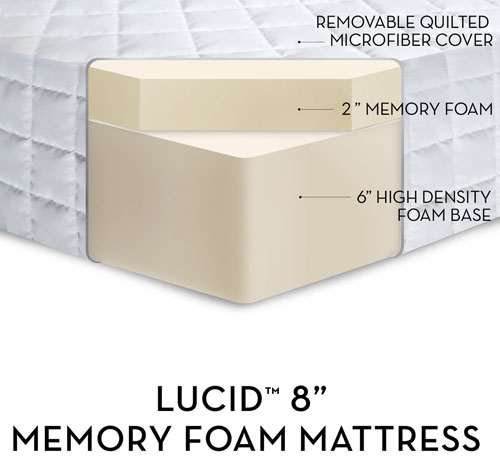 LUCID made success in 10″ and 12″ mattress and great achievement in 8″. Nearly 500 customer left reviews and it earns an overall 4.1 rating. This LUCID model is as cheap as #2, queen size about $200. The price is really a great but specifications are just good. As far as I know, LUCID doesn't use decent density foam in 8″ and 10″ mattress. 2″ comfort layer and 6″ support base are basic configurations. Compared to Best Price, this LUCID model looks much more mediocre. This bed is also CertiPur-US certified and eco-friendly. For some people, I must to mention that it's made in China. If you don't care where it's made, it's still a great deal. Additionally, it's a firm bed. People who like soft bed may avoid it.
---
#4 Signature Sleep 8-Inch Mattress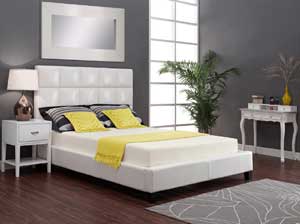 It's a pure memory foam version of Signature Sleep. This version isn't as popular as the hamburger version but still fairly good. Nearly 280 owners gave reviews and it got an overall 4.4 star, which are excellent results. As you know, the density is the essential parameter for a foam. I was very disappointed when seeing the top was 2″ 2lb foam. Its price is a little lower than LUCID model. Considering all specifications, it's another just fine entry level option. Different from the burger model, it's imported from China. That's a reason why it's so cheap.
---
#5 Sleep Innovations 8-inch Sure Temp Mattress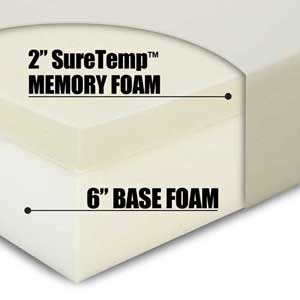 Sleep Innovations is "the most expensive brand" in this top 5 list. King size's under $400. It has least review counts, a little more than 100, overall 4.3 rating. It includes a 2″ top sitting on 6″ base. It's using 3lb foam instead of 2lb, a plus. Denser foam means longer life span and better performance. It's one of two mattress proudly made in US. It's a sign of superior quality, is it?