Classic Brands Cool Gel Ultimate Gel Memory Foam 14-Inch Mattress with 2 Pillows

,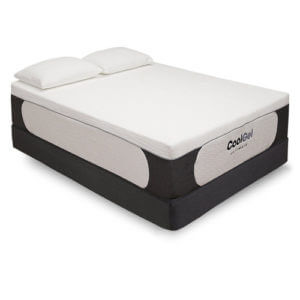 Classic Brands Cool Gel Ultimate gel memory foam 14-inch mattress comes with two shredded foam pillows for promotion. That makes it a better deal than other Classic Brands mattresses. Like most brands in this industry, they import mattresses from China. Yes, they're made in China. Mattresses imported from China are super wallet-friendly so we don't have to break the bank to own a comfortable mattress. This mattress is also a friendly mattress to hot natured people as it features 2-inch gel foam helping regulate temperature on the surface. These days, mattresses are becoming cheaper and also better made. Besides that, the Classic Brands 14-inch mattress that is one of them is provided with great return policy and excellent customer service. Therefore, I think it's worth a try and won't let you down. Of course, it still has some drawbacks and those will be explained later below.
---
Classic Brands Gel 14-Inch Memory Foam Mattress Features
Know more about layers
Classic Brands Ultimate Gel 14-inch mattress consists of 2-inch ventilated cool gel memory foam, 2-inch regular memory foam, 2-inch poly foam and 8-inch high density base foam. Obviously, top gel memory foam layer is aiming to keep normal temperature under your body. 2-inch memory foam layer is providing body conforming experience and reducing pressure points. 2-inch poly foam layer is a buffer layer between you and hard foam base. 8-inch high density foam base is offering solid support. One thing you shouldn't misunderstand here is the high density base foam isn't what we often talk about. High density here is a different thing. 2 lbs is high density for a foam base, while high density for a memory foam layer refers to more than 5 lbs.
Is it firm or soft?
Classic Brands rates this 14-inch cool gel mattress medium but it's not accurate. According to customer feedback, medium to firm would be an accurate description. The first two layers are relatively softer and conform to your body. Gel foam usually is firmer than regular memory foam, especially when the indoor temperature is low. That explains why when many people first lie down they feel a little firm but a little plush after a while. Therefore, we rate it 7 or 8. (1 to 10 soft to firm)
Stay cool or hot
As the mattress is named cool gel ultimate gel, it makes use of gel infusion technology to regulate the surface temperature. It removes hot-natured people's concerns about being heat up while sleeping. It does work very well. But don't expect it works like an air conditioner to keep you noticeably cool. Actually, the mattress with gel memory foam doesn't make you cool and it feels warmer than standard coil mattress sometimes but still at comfortable temperature overall. The cool feature refers to the effect preventing the foam from heating up.
Thick enough for heavy people
This is a thick and high memory foam mattress. The 14-inch height gives decent capacity to accommodate people weighing above the average. People over 350 lbs could use this Classic Brands mattress without any problems. It can provide both sufficient comfort and support a heavy person needs.
30 day return window
Classic Brands mattresses sold on Amazon are eligible for Amazon 30 day return window. You have 30 days to decide if it's worth to keep. Unlike other brands, they don't sell mattresses on their own website nor have any longer free trial.
25 years limited warranty
What does the Warranty Include? What are the specific terms and conditions of the warranty?
Classic Brands is offering 25 year limited warranty. Most terms are no different from other brands. Here are a few specific terms and conditions you should know about it. 25 years includes 10 years full warranty and 15 years pro-rated. Customers afford the transportation cost during the full warranty period. The warranty only covers an indentation more than 1.5 inches on condition the mattress has proper support. The ticking cover is only warranted for 5 years and removable zippered cover is warranted for 2 years. Using electric heating blanket will void the warranty. It's recommended to have an extra waterproof cover to protect the mattress and its original cover.
Made in China
Classic Brands memory foam mattresses are imported from China. Being made in China now isn't unusual in mattress industry. Like many brands, Classic Brands aren't manufacturing mattresses under this name but outsourcing to China manufacturers. From owner reports, manufacturers have better quality control on Classic Brands 14-inch gel memory foam mattress as no one reported it lost firmness or got indentation. Unsatisfied owner complaints are primarily about firmness comfort, being too hard or too soft.
Two free pillows, not junk
Classic Brands gives away two shredded memory foam pillows. Buying a mattress getting two pillows isn't new promotion method and many brands are using it. But most of them include small, inferior quality, useless pillows because they just want to fool customers. However, two pillows Classic Brands offers are standard sized and made of cool gel memory foam. Most customers replaced old pillows with nice free ones.
---
Classic Brands Gel Memory Foam 14-Inch Mattress Drawbacks
No side support
No side support is a common issue among all types of memory foam mattresses because manufacturers don't give the reinforced edge. You could expect to sink in more than a spring mattress when you sit on the edge. But you won't have problems if you want to sit on the edge and put socks and shoes on.
Odor
Although Classic Brands gets their memory foam the CertiPur-US certificate, there is still an odor once you unwrap it. It takes some a few hours or days to dissipate. If you have a sensitive nose, you need to give it more time to air out.
Too firm
Primary complaints for this mattress are about the firmness. These people complained the mattress was too hard and refused to allow them to sink in. That's not the mattress is supposed to be. If you buy Classic Brands 14-inch Cool Gel and have the same experience, contact Amazon for return or replacement.