DynastyMattress Deluxe 10-Inch Memory Foam Mattress Review

,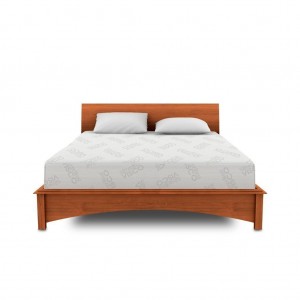 DynastyMattress Deluxe 10-Inch memory foam mattress has been available for seven years since 2005. Owners speak very highly of this mattress. If you do some research online, you may find DynastyMattress is one of the three online mattress brands and other two are LUCID by Linen and Sleep Innovations. Unlike other 10-inch memory foam beds out there, the Dynasty mattress uses high-class memory foam on the bed. The best part is the price isn't expensive and anyone can afford it. When you can spend a few hundred dollars on a comfortable bed, why should you pay that sort of money?
This mattress is unavailable now. You can go to check Sleep Innovations Shea 10-inch memory foam mattress which is a comfortable, quality and long-lasting US made mattress, much better than this Dynastymattress but within the same price range.
---
Overall review: DynastyMattress Deluxe 10-inch is a firm bed but doesn't feel like a rock; it's vacuum sealed and wrapped in multiple layers of plastic; very easy to unwrap it and it takes about 24 hours to inflate completely; the chemical smell is noticeable after unwrap it and it would be almost gone in a day; feels a little warmer but still bearable; does a good job reducing the transfer of motion; it sops up liquids and fluids.
At the time of this update, it's out of stock. Click here to see if it's back to stock.
---
Features of DynastyMattress Deluxe 10-Inch memory foam mattress
A firm bed
DynastyMattress Deluxe 10-Inch is a firm bed and for persons who need a firm support it's well suited. Other people had better go to the local big box stores and mall specialty shops to test drive 5lb density memory foam mattress. Due to 5lb high density foam, the top layer gets firm and doesn't conform to your body quickly. It will slowly find the contour of your body when it detects your body temperature. Then it feels more and more comfortable. If you've never slept on over 5lb memory foam, it will take some time to adjust. Just in case, you can add soft foam topper to make it comfortable.
Excellent knock-off of the name brand
DynastyMattress mainly sells mattresses online and is well known for producing excellent knock-offs of the luxury brand. This mattress uses best quality memory foam and is manufactured according to the Tempurpedic mattress model.
Pain relief
Due to the 5lb memory foam layer, DynastyMattress Deluxe 10-Inch memory foam mattress performs better than the mattress with 3lb or 4lb foam. That has been proved by Dynasty Deluxe 10" owners. High density foam distributes your body weight evenly and offers support to shoulders, back, hips and feet. You don't worry waking up with pain and aches.
Luxurious experience & low price
Dynasty Mattress Deluxe 10-Inch memory foam mattress has a 3-inch 5lb top layer whose density is higher than its competition. But it costs as much as other 10-inch mattresses. This mattress allows you to enjoy luxurious sleep experience without spending over a thousand dollars.
No heat trapping
As for the heat trapping issue, many memory foam mattresses are complained by owners about heat trapping. But Dynasty mattress 10-inch has better performance. Since it was available in 2006, no owners give negative feedback on temperature issue to DynastyMattress Deluxe according to the reviews. Even hot sleepers find it comfortable and feel as warm as other type of mattresses.
Dynasty 120 days trial
If you haven't bought memory foam mattress online, you may not know DynastyMattress and its awesome policy. All its mattresses offer 20 year warranty and 120 day in home trial. Even those pricey brands can't provide such a good policy. You can get your money back for any reason in 120 days.
Click for lower price
---
Issues of DynastyMattress Deluxe 10-Inch memory foam mattress
Odor Issue
It does have a slight chemical smell and may be a problem for people who have a sensitive nose. Let air it out for a day and 90% will be gone. After a week, the odor will be not detected.
Warmth 
This Deluxe 10-inch mattress is a little warmer than the spring mattress but still bearable. People who can't stand the warmth can add a cotton quilt on top of the foam and below the sheets. That works it out.
Sop up liquids
It absorbs fluids and liquids easily, and isn't easy to get it cleaned. You should be careful about any kinds of fluids and liquids on the bed and keep them away from your bed.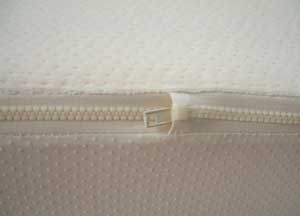 Customer Reviews
10-Inch DynastyMattress Deluxe gets a decent rating, over 4.4 stars. About 85% owners rate it 4 and 5 stars. The customer satisfaction is above some expensive brands because owners are very pleased with its performance at such a cheap price. Let's see what owners said.
"No lie – it's truly equal to Tempurpedic – but at a quarter of the cost!"
"After 28 months it is still in the same condition. We like it."
"Overall extremely pleased with the bed as is my girlfriend who hasn't slept better."
"I have pretty bad insomania and this mattress helps a lot."
"I also slep very deep and i love this mattress. It is my dream mattress!"
"I've had this mattress since 2009 and it is quite possibly the best purchase I've ever made on Amazon."
Where to buy
As far as I know, Deluxe 10-inch 5lb mattress is only found on Amazon and other online stores don't sell Dynasty mattress products. It's a deluxe mattress but sells at a cheap price on Amazon. Click here for price
---
Mattress details
Available mattress sizes: California King, Full, King, Queen, Twin
3-inch 5lb memory foam
7-inch 1.8lb base foam
120 days trial