Lucid 10" Gel Memory Foam Dual-Layered Mattress Review

,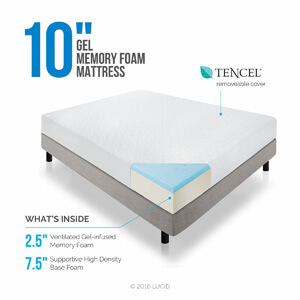 LUCID updated some models with new materials for example LUCID 14 inch memory foam mattress has two regular memory foam replaced with gel foam and bamboo charcoal memory foam to ensure good ventilation. And this LUCID 10 inch mattress isn't totally the same as when it was released four years ago. The manufacturer added gel beads to the first layer which is the common method to lower temperature on the surface. Hot sleepers would be glad to see the addition as they don't need to concern about getting sweat at night.
LUCID 10-inch Gel memory foam mattress was No.1 in the bestsellers of mattress category on Amazon. Over 78% owners are pleased with LUCID 10 and give 4 or 5 stars. Several factor make this LUCID mattress the bestseller of bestsellers. It has a super cheap price that everyone in the world can afford. Compared to the name brand, it's a small fraction. In addition, the mattress helps back pain and offers enough support. Sleepers don't wake up with aches in the morning or sweaty in the evening. It can eliminate movement delivery so that light sleepers don't feel the movement made by the partners. LUCID 10-inch gel foam mattress isn't perfect. Let me explain its features and issues owners talk about.
Click here for lower price and free shipping
---
Features of LUCID 10-inch gel memory foam mattress
Firmness grade: 7-8 (1-10 softest to firmest)
When it comes to the firmness, LUCID 10 mattress is firm but also comfortable. It depends on the person's weight to some extent. Memory foam of top layer is more weight-sensitive. For people who have a weight like 180 lbs, it tend to feel firm and supportive. For people about 120 lbs or less, it's a bit more difficult to sink in but still comfortable. Light persons who love soft bed need to look at mattresses on the soft side.
Memory foam density
Although LUCID 10 mattress is an entry-level memory foam mattress, it can ease back pain effectively and that has been proven by hundreds of owners. This mattress has a 2.5-inch 3lb top layer. It helps place pressure points where they are supposed to be. So you don't feel the pressure points and get a sound sleep.
Gel memory foam
LUCID has changed the first layer from memory foam to gel infused memory foam so we're no longer very sure if the density is still 3 lbs as they may change the formula. Gel foam is definitely a great addition as it solves the heat retention issue for many people to some extent. If you sleep hot on regular memory foam mattress, gel infused model could change the situation. This type of foam is relatively also temperature sensitive. When the indoor temperature lowers, it becomes firmer.
CertiPur-US
Around the June of this year, LUCID added new features to 10″ Memory Foam Mattress and updated a new image with CertiPUR-US® seal. LUCID also changed original feature of this model. Additions and change didn't affect the comfort or firmness. You will find owners are saying firm but comfortable, blah-blah-blah. So what is CertiPUR-US® for?
CertiPUR-US® is a program to conduct a series of scientific tests for foam and check if the foam meets their strict standards. CertiPUR-US® certified foam has low emission and tested durability, is made without PBDE flame retardants, CFCs and other ozone depleters, heavy metal, formaldehyde, and prohibited phthalates. That being said, it's a great addition for owner health and owners are very happy with the performance. The net result: fewer people complained the mattress came with strong odor.
Non-sleep activities friendly
LUCID 10″ mattress is also a comfortable mattress for non-sleep activities. Since it's very heavy and the memory foam absorbs the pressure, the mattress doesn't make any noise as other types of beds. It is also easy to move on and very good for different kinds of positions compared to many other memory foam mattresses.
Super cheap price
LUCID 10-inch mattress takes full advantage of the price and makes it affordable for everyone. The bed is about 10% the price of the name brand. It's a great option for us who always don't want to spend over a thousand dollars on a bed. The queen size is about 1/4 the price of Serta iComfort (check out the price).
Something you have to know about LUCID warranty
LUCID seems to hide their warranty details. We customers can't find out their warranty details on product page at their official store or Amazon. What we know is only 25 year length but nothing. If we couldn't find a warranty, we don't know what we can do, what we can't and what may void warranty. Even if you contact customer service for warranty detail, they just send a useless pdf. After search high and low, we find there're some important details for customers. The mattress requires a proper foundation that is limited to metal frame. You can't a use wooden foundation like plywood or put it on a bunk bed. The box spring is also not recommended. All these will void the warranty. You'd better buy an extra waterproof cover for the mattress or any stains on the mattress will make you lose the right to make a warranty claim. Really hope LUCID could improve quality and not hide the warranty, and be a company standing behind products really.
---
Issues of LUCID 10-inch gel memory foam mattress
An inescapable issue
As for initial odor, all memory foam mattresses have the smell and the name brand is no exception. LUCID 10-inch uses low density foam that has fewer odors than the higher density foam. Let the mattress air out for a few days. The odor will be gone.
Lose firmness and indent again 
After four years, we witness owner satisfaction of this mattress dropped from nearly 90% to 78% at the time of this writing. It's a huge decrease. Why so many buyers aren't satisfied with it? LUCID must learn from the decrease and failure. When we look into unsatisfied owner reports, we find about 8 out of 10 complained the mattress is failing after few years and a large majority report their mattress lose firmness, indent or sag in 2 years. Once indentations grow, it doesn't go back to its natural form. Although many other owners' mattresses still last very well and people are very satisfied with it, obviously LUCID have a bad quality control in their mattress. And the quality issue isn't only in this LUCID 10 mattress but also some other LUCID models. It seems a common issue among LUCID mattresses. If LUCID don't make change, we don't recommend it.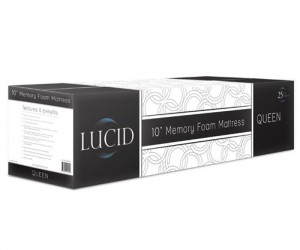 ---
LUCID 10-inch gel memory foam mattress is a cheap and comfortable bed. If you've never used memory foam mattress and are going to have one, this one is worth a shot. It's definitely a cost-effective option for people who don't have a limited budget and want a reliable bed. It's a firm bed. For people who don't weigh too much, there are softer beds out there.
Mattress Detail
Available mattress sizes: Full XL, Olympic Queen, California King, Full, King, Queen Twin, Twin XL, short queen
2.5″ memory foam layer
7.5″ foam base
3lb foam density
25 -year warranty