LUCID 14-inch Memory Foam Mattress Review

,
If you tend to buy a new mattress with thick support layer and memory foam layer, LUCID 14-inch memory foam mattress is something you should consider. 9 inches support layer and 5 inches comfort layer meet your need. LUCID puts this bed in the soft category but owners say it's a firm bed. People who need enough support don't need to be concerned and they don't sink too deep into the mattress. Since LUCID isn't a big brand and it doesn't pay too much for advertisement, the price is reasonable and unbeatable. It's just 1/10 the price of the Tempurpedic bed. If you are a person like me who want to buy an economical mattress, LUCID 14 inches mattress will not disappoint you.
---
Features of LUCID 14-inch memory foam mattress
First question: firm or soft?
LUCID official report says this 14 inch memory foam mattress isn't on the firm side and feels softer than other LUCID models. And when you check the customer reviews you will find some owners complain it's overly firm as a rock but some other feels too soft. Firm or soft, in the final analysis, has everything to do with personal preference. Based on most owners, LUCID 14 inch memory foam mattress is a firm model. As the memory foam is 5.3lb dense, lots of owners feel firm support just right.
Unbeatable Price
The primary reason customers buy LUCID 14 inch mattress is its reasonable price. It provides the similar comfort and firmness as the name brand but sells at a fairly low price. The bed with the same dense and thickness costs at least five times as much. LUCID offers an affordable option for the person who doesn't want to spring grand on a bed.
Comfort & pain relief
LUCID 14-inch mattress uses dual comfort layers that are made of high density foam. People who weigh above average may find it more supportive than the thinner bed. The high dense and thicker comfort layer can helps the whole body sink into bed and get amazing comfort as well as support. Due to the 5.3lb density foam, the bed puts every part of the body where it is supposed to be and keeps them on the same flat. That said, users don't feel the pressure points or toss and turn throughout the night to get a comfortable position. They can wake up pain free in the morning.
Limited motion transfer
LUCID 14-inch mattress also does a great trick in isolating motion transfer. The bed absorbs the pressure and prevents the motion delivery. That means when you make movements on the bed, your sleeping partner doesn't feel it. You don't need to worry about disturbing his or her sleep.
How about warranty
In terms of the return policy, although LUCID 14-inch mattress doesn't give a home in trial, it comes with a 25 year warranty and most users are ok with it. Because before make a purchase online, they go to the local stores to try Tempurpedic out and are happy with it.
Stay cool?
Some owners find LUCID® by LinenSpa 14 inch memory foam mattress gets warm in hot days and cool in cold days. When the bed gets warm and retains heat the bed softens; but when it feels too cool it gets firmer. That is because this mattress uses 5.3lb high dense memory foam. And the denser the foam is the more temperature sensitive it is. The good part is it's not overheating, just gets warm. To solve the heat retention problem, LUCID 14 mattress uses a removable cashmere cover to help lower the sleeping temperature. Sleepers especially the hot sleepers who suffer from night sweaty don't wake up sweating.
---
Issues of LUCID 14-inch memory foam mattress
New paint smell: One thing you should know that the mattress has a new paint odor when you pull it out of the box and the high priced ones are no exception. Just let it air out for a few days.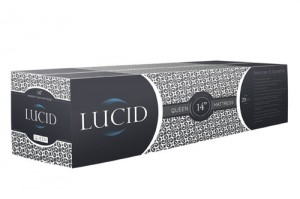 Customer Reviews
Nearly 200 owners leave their reviews and tell how the mattress feels. 82% customers like the performance and experience improvement of sleep quality and back aches. They told the mattress provided just right support and cushion. 9% owners don't like it because they don't like the "new paint smell" that comes with the mattress. And some other mention it's too soft or hard for them.
"If you are worried about the heat, this mattress doesn't get much hotter than Courtney Love, so no worries there."
"It is the best mattress I ever had without the price tag of well known name brand."
"The mattress is extremely comfortable. This bed is highly recommended."
"This mattress is worth every penny."
---
Video Review
LUCID 14-inch memory foam mattress is a firm mattress. It's an awesome choice for people who need adequate support, especially for people suffering from back pain. If you like a soft bed, there are better options on the market.
FYI: LUCID 14-inch Cashmere Covered Memory Foam Mattress has two versions: 3 layers firm bed and 4 layers plush bed
Where to buy
LUCID only sells their mattresses on online stores. You will find this mattress is only available on Amazon and LUCID Official site. And they sell at the same price. But as some customers said, the price on Amazon often changes, especially on some holidays like Mother's Day. Click here to find best price
Mattress details
Available bed sizes: California King, Full, King, Queen, Twin, Twin XL
2-inch 5.3lb memory foam
3-inch 3lb memory foam
9-inch foam base
25 years warranty