Signature Sleep 12 Inch Memory Foam Mattress

,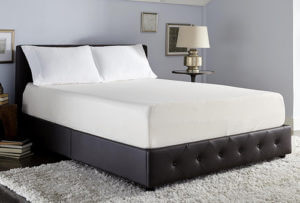 Signature Sleep 12 inch memory foam mattress is one of best sellers in Signature Sleep product series. It had a name Memoir but Signature Sleep doesn't use it. The competitive price and decent quality contribute to its success. Pay less than $300 and you have a 12-inch memory foam mattress. It's a steal, especially for us who don't want to spend a fortune on a bed. Although it's not the only choice under $300, Signature Sleep 12-inch mattress is worth every penny you pay for it. It's another China made mattress on the market. But it doesn't have the quality issue that bothering some brands. You will have what you want from a memory foam mattress, such as limited motion transfer and pressure relief. This mattress isn't perfect or suited for all. It has an obvious drawback that may affect your sleep.
Click here for free shipping and low price
---
Signature Sleep 12 inch memory foam mattress features
Firmness rating: 7-8 (1-10 1 being soft and 10 being hard)
Signature Sleep mattresses aren't known for softness and most are medium or on firm side. This Signature Sleep 12-inch is more a firm bed but not make you feel like sleeping on the floor. When you lay down on it, you may feel firm but after a few seconds it starts to hug you. You will sink into the mattress but not much. The top 3.5 inch memory foam layer fills the gap in your arch areas like lower back and 8.5 inch stiff foam base to keep your body aligned naturally. That distributes your weight evenly and eliminates pressure points.
Sleeping hot? Maybe
Signature Sleep 12-inch mattress is made of memory foam and poly foam. It doesn't have any gel foam used in many other mattresses. No cooling feature affects its performance in regulating temperature on the bed. That's the obvious drawback we mentioned above. But that doesn't mean you will sleep hot or get sweat. If you have normal temperature while sleeping, you wouldn't experience the issue or feel a little warm at an acceptable level at best. If you're hot natured, you may suffer from it but it's not the end of the world. A breathable sheet or pad could prevent heat trap.
Who is standing behind Signature Sleep
Signature Sleep is a brand of Dorel Furniture, which is known for Dorel Home Products (DHP). Some of DHP products are made in US but all Signature Sleep mattresses are manufactured in China. The China OEM is XILINMEN Furniture Co., ltd. It's a public company listed in China A shares and the biggest mattress manufacturer in China. Their products dominate China mattress market.
Made in China
Signature Sleep mattresses are no doubt imported from China including this 12-inch memory foam version. It's becoming usual that more brands outsource their mattresses to China factories and more China brands sell their products in US. The best part of China made mattresses is cheap price. It makes anyone can afford a new mattress without spending a fortune. Signature Sleep 12-inch memory foam mattress queen size is lower than $300. That's really impressive. But people always argue about China-made product quality. We're very glad to see that very few owners have no negative feedback about quality of Signature Sleep 12-inch mattress.
Short warranty
Super short warranty is the biggest stain of Signature Sleep. You probably don't know that most mattresses brands out there are offering 10-25 year warranty. This 12-inch memory foam mattress and other Signature Sleep models come with only 1 year warranty. What are the terms in the super short warranty? It covers manufacturing defects in workmanship and materials, and also does sagging or indentation greater than 1.5 inches. They don't mention who's responsible for transportation fee and other costs. Generally, all are customer's responsibilities. All terms are no different from other brands. Such a short warranty doesn't make any sense.
Free turn window
Different brands give different length of free trial from 30 to 120 days. Signature Sleep provides 30 day free trial on Amazon. Free trial in mattress industry is most customer friendly policy. It allows us to test if the mattress suits and if we don't like it we can return it without lose anything. Usually, the mattress company pays for shipping back.
Density matters
This Signature Sleep 12 inch bed is using 4 inches, 4 pound, 9 ILD foam as the top layer. You may not know what all numbers mean. Let's check out what competitors are using. The comfort layer of Sleep Innovations 12 inch is 2.5 inch 3lb foam; LUCID 12 inch's is 2 inch foam with unknown density. These two are primary memory foam mattress brands online. Generally speaking, foam density has much to do with durability and longevity. Denser foam holds to its shape better and lasts longer.
Click here for free shipping and low price
---
Signature Sleep 12 inch memory foam mattress drawbacks
Too firm
As we mentioned, this mattress is on the firm side and it's probably too firm for some people. That's primary complaint Signature Sleep 12-inch received. Being too firm isn't a big issue as an extra plush topper or mattress pad could improve. But if you feel too soft, there is little to remedy.
Short warranty
When you consider buying this mattress, don't ignore 1 year limited warranty.