SilverRest 12-inch Memory Foam Mattress Review

,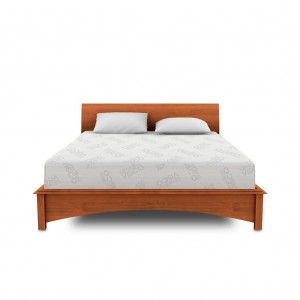 SilverRest 12-inch memory foam mattress has been available for seven years since 2005. Owners are impressed by its top quality and low price and very satisfied with comfort and support. It gets 4.1 out of 5 stars on Amazon. The most mentioned topic among owners is the mattress helps back pain. If you have a bad back, give it a try and you will feel much better. The low price makes it affordable to everyone. The beds on the market using the same density memory foam cost over $1000. In addition 5-inch thick foam will make you sleep like a baby.
All SilverRest modes are unavailable. You can go checking US-made Sleep Innovations Shiloh 12-inch Memory Foam Mattress. It has better quality than SilverRest and longer lifespan.
---
Features of SilverRest 12-inch Memory Foam Mattress
Thicker top layer means better comfort
People who have a bad back or weigh over the average will find SilverRest 12-inch mattress very comfortable. Nowadays, it's not easy to find a mattress including both great thickness and high density, especially on the internet. Most 12-inch memory foam mattresses sold out there have 2 or 3-inch 3lb foam, which offer limited softness and support for sleepers. The high density 5.3lb memory foam SilverRest 12″ mattress uses works much better than low density foam for pain relief and it reduces pressure points effectively. Depending on 5-inch 5.3lb memory foam, the mattress conforms to the contour of your body perfectly and makes you feel like sleeping on the cloud.
How much is it?
The good price is a primary reason why I rate SilverRest 12-inch memory foam mattress as one of best deals (check out the price). It is about half the price of its competitors with same or similar compositions. Within this price range, few mattresses can offer such a high density and thick memory foam. If you do some research, you will find the mattresses with same density and thickness are over $1100.
Limited motion transfer
SilverRest 12-inch mattress separates movement transfer. I believe you see the advertisement of some memory foam brand and must be impressed by the wine test. No matter how hard the person jump, the wine doesn't run out. This feature ensures your husband or wife doesn't feel you toss and turn or get in/out of the bed.
Excellent return policy
SilverRest 12-inch memory foam mattress has another useful feature for persons who buy a mattress online like me. It offers 120-day in home trial. Few mattresses out there can provide in home trial and some brands offer a short trial like Tempurpedic only give 90-night tryout. This feature ensures that you can get your money back in 120 days when you are not satisfied with the bed.
Where is SilverRest 12-inch mattress made?
It's made in China. If you don't like China made mattresses, go to search US made mattresses on this site.
---
Issues of SilverRest 12-inch Memory Foam Mattress
Too heavy
The only downside many users mentioned about this mattress is it is too heavy. It's a two-person job. When you receive the mattress, you need someone to help you move it around.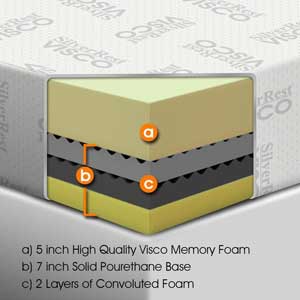 Customer Reviews of SilverRest 12-inch Memory Foam Mattress
"This mattress was advertised as being a 'high density' foam, comparable to Tempurpedic. Altho it's quite comfortable,…it's not near as firm as my Tempurpedic,so I wonder as to it's longevity, but works nicely in our guest room." – Renee Chase
"The mattress was as described. It is quite firm but shapes nicely when sleeping on it. I can turn and sleep on front, back or either side without any hip or shoulder pain." – J. Mcilvenny
See SilverRest 12-inch Memory Foam Mattress on Amazon
SilverRest 12-inch memory foam mattress gives relief from back pain. This mattress is also a solution to sleepers who have an average weight to find sufficient support and comfortable sleep.
Mattress detail
Available sizes: King, California King, Full, Twin, Queen
5-inch memory foam
7-inch foam base
5.3lb density
20 year warranty 120 days trial
related bed review: SilverRest Therapeutic 10-Inch Memory Foam Mattress Review