DynastyMattress New Cool Breeze 12-Inch GEL Memory Foam Mattress

,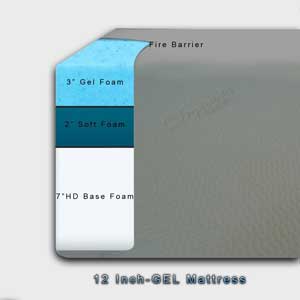 DynastyMattress New Cool Breeze 12-Inch GEL Memory Foam Mattress is a great deal for persons who like firm support. Due to the gel foam, the mattress feels firmer than standard memory foam models. Besides it cradles to your body and offers contouring comfort. It's a breeze cool mattress that regulates the temperature on the bed and vents extra heat from sleeper's body. You don't need to worry about the night sweaty issue. Since it is a thick firm mattress, big guys will find the firm support they need on this bed. It has a cheap price and costs much less than similar mattresses at the local stores. The company includes free two quality gel pillows to help you save a hundred.
---
Overall review: the Cool Breeze 12-Inch Gel bed is a firm mattress but not hard; very cheap and costs about 1/3 the Serta iComfort prices; it comes vacuum compressed and rolled up in a box; two gel pillows are rolled inside the bed; once pulled out of the box, it inflates completely in three hours (pillows also need to air out); it has a slight odor and leaving windows open will help the dissipation; it's not that breeze cool as expected but still better than standard memory foam mattress.
---
Features of DynastyMattress New Cool Breeze 12-Inch GEL Memory Foam Mattress
Firm mattress
DynastyMattress New Cool Breeze 12-Inch GEL is a firm mattress which is a great deal for people who like a firm bed. Some people feel very firm. That is partly owing to the gel foam material. Gel memory foam mattresses are firmer than standard memory foam. But it also allows sleepers to sink into the bed and cradles to the whole body after a while the bed senses weight and temperature. You will feel firm first but a little soft after you melt into it. It's not uncomfortably firm. If you're a person who likes a soft bed, you should consider standard memory foam.
Bargain price
12-Inch DynastyMattress New Cool GEL doesn't cost as much as the gel mattresses in brick-and-mortar stores. If you go to those stores, you may find similar mattress costs thousands more. This gel bed is about 30%-40% the price (check out the price). For such a high quality and fantastic price, it is really a bargain deal.
Sleeping cool
DynastyMattress New Cool Breeze 12-Inch uses 3-inch gel foam as the upper layer. The gel layer lowers the sleeping temperature effectively. No owners report the overheating issue, on the contrary, many of them tell they don't get sweat at night. If you are a hot sleeper and usually get sweat, give the gel mattress a try.
Relieve pain and aches
Over 80% owners report this DynastyMattress New 12-Inch improves their back pain. And they don't wake up with pain in the morning. Although this gel foam is on the firmer side, it still maps the contour of sleeper's body and offers the targeted support to every part.
Free two gel pillows
This Dynasty mattress comes with two quality gel pillows. They're small and not big enough for sleep, but offer extra support on the couch when you're watching TV.
Issues of DynastyMattress New Cool Breeze 12-Inch GEL Memory Foam Mattress
Odor
The odor isn't a big issue and all memory foam mattresses will more or less come with the chemical odor. If you have a sensitive nose, keep windows open and fans on. That will make it dissipate quickly.
Heavy
The mattress is very heavy. If you aren't very strong, you'd better to get some assistance. And make sure open the box where you are going to use. Once it expands, it's difficult to move it around.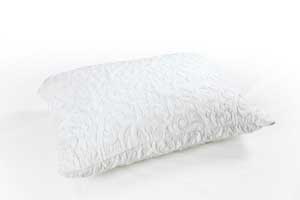 Customer Review
This cool breeze 12-inch gel foam mattress has very few negative review, only one 1 star rating. And the rest ratings are 4 and 5 stars, which is given by 97% customers. They like the firm support, comfortable gel pillows, and great price. Let's check out what owners said.
"The two free pillows that where included are well made, firm and very heavy."
"This mattress has relieved much of the chronic back pain with which I deal"
"I am far less warm on this new mattress than my old one, which is good because I overheat at night."
"No more back aches and my kidney stone do not bother me anymore."
"I have back problems and this bed has improved the quality of sleep I get."
"My wife thinks its a little firm but still likes it."
Where to buy New Cool Breeze 12-inch Gel Foam Mattress?
This breeze mattress is selling at a great price on Amazon. It is also available on manufacturer's site but the price is quite expensive. If you are also a budget shopper, Amazon is able to offer the great value. Click here for the price
Mattress detail
Sizes: Cal King, King, Full
3-inch gel foam
2-inch soft foam
7-inch foam base
20 years limited warranty
120 days trial