LUCID 12-inch Gel Memory Foam Mattress Review

,
Several weeks ago LUCID did updates to some mattresses and luckily LUCID 12-inch gel memory foam mattress is one of them. They didn't change the overall height of comfort layer but cut middle layer from 2 inches to 1 inch and thickened the height of top gel foam to 3 inches. The regular memory foam middle layer is replaced with bamboo charcoal ventilated memory foam to increase air circulation and heat exchange. LUCID exchanged the original useless silver infused cover for TENCEL Lyocell blend cover. The new cover is featuring moisture-wicking comfort. All these updates and changes focus on ventilation in mattress and they will to a certain extent improve the performance in regulating temperature and reducing heat retention. The updated mattress doesn't eliminate all issues the old model has but will improve without doubt.
LUCID 12-inch gel memory foam mattress is a high customer rating mattress, which is above the average customer satisfaction. There are three main features owners mentioned most, best price, no heat issue and comfortable sleep. A primary reason why this LUCID 12-inch gel memory foam gets popular among customers is its super low price. It's only 1/7 the name brand. If you read owner reviews, you will find no one complain sleeping hot and they only mentioned they had no issue with heat. Although many owners said it was soft, it is still at the firm end of all LUCID mattress. Due to its medium density, it is a back pain relief and provides the needed support for every pressure point. As for the price, LUCID gives this 12-inch mattress a reasonable price that most people can afford.
---
Features of LUCID 12-inch Gel memory foam mattress
A soft mattress? No! Firmness grade: 6-7 (1-10 softest to firmest)
LUCID give this mattress a firmness of medium to plush and if we use firmness grade that would be 2-3. But customer feedback is the exact opposite. It is also on the firm side compared to other LUCID mattresses. However, it's not meaning it would be an ideal choice for people who need a really firm foam mattress. It's firm and more supportive, allowing people sink in. 3 inches gel foam plus 1 inches comfort foam improve its breathability and create contour support for your back. If you are comparing this mattress with Sleep Innovations 12 inch mattress, it's a softer bed.
Foam density
This LUCID 12-inch mattress has dual comfort layers as the previous model. The top is 3-inch 4lb gel memory foam and the center is a 3lb standard memory foam. If you've never slept on a memory foam mattress, you may feel very weird sleeping on the bed and can't fall asleep easily. It does take some time to get used to and after that you will feel like sleeping on a cloud. Some owner told it took him a week to adpat to his new bed. Besides sleepers especially heavy people will find it very soft and supportive because the 4-inch memory foam can conform to the whole body perfectly.
All back pain sufferers prove it's helpful
Over 80% owners mentioned their back pain improved dramatically. Most people can't tell how the mattress works and effects but they feel "a world of difference". LUCID 12 inch mattress uses the 4lb and 3lb memory foams, which are very helpful for bad back. Such decent density memory foams soften the pressure points and give needed support. It helps put the whole body at the right place. So some customers mentioned they didn't wake up many times through the night to change positions and got rested and pain free in the morning.
Sleeping cool
Thanks to the thick gel foam, most customers don't have any overheating issue while sleeping. The top layer minimizes the overall heat and warmth. There're some buyers still noticing the mattress gets warmer compared to their old spring mattress but it's still normal and acceptable.
Silent mattress gives silent sleep
LUCID 12 inch mattress is also good at limiting motion delivery. It does reduce the delivery of the movements you made to your partner. If your husband or wife is a light sleeper, you don't need to worry he or she wakes up when you get out of bed. It is because they hardly feel your movement.
CertiPUR-US mattress
All LUCID mattresses come with a new feature – CertiPUR-US. You can find the logo on the image. LUCID is going to tell us their mattresses pass the CertiPUR-US test and contain no nasty material. That means LUCID 12″ gel foam bed is safe and no harm to your family health. The program also has a strict standard for outgassing and the certified bed has less emission than other ones. Click here for lower price
---
Issues of LUCID 12-inch Gel memory foam mattress
Too firm
some people complained it was too soft, while some other told it was a rock. According to most owners, it's not too firm or soft.  People weigh too much will find it too soft and others under average weight will feel too soft. If you want to buy a firm bed, this one may be not best suited for you.
A chemical odor
Among all negative feedback, the most popular topic is odor. But it's not a deal breaker. The odor dissipates very quickly and is gone in less than a week.
Not holding up very well
Some owners complained their mattress wasn't holding up very well and sagging or dipping in a year. Complaint about quality and durability is nothing new to LUCID mattress and some other LUCID models get much more. Among customer negative reports, disappointing quality isn't what people talk about most and there're many about unbearable firmness and strong smell. From all LUCID owner reports, we find each LUCID mattress receives complaint about quality more or less and that tells LUCID they need to do something on quality control.
Return and warranty
Some customers complain it's impossible to return the mattress as it's bulky and heavy. What's more, the cost of shipping back is really a lot for such a cheap mattress. We recommend you try to do return within 30 days if you buy from Amazon or 120 days from LUCID official site. They're free trial periods and you can get money back without paying for shipping fee. After free trial, you have to make a warranty claim and pay for shipping. As for warranty, there're something you need, an extra waterproof cover protecting mattress free of stains and a proper foundation of metal frame. A box spring or wooden foundation will void the warranty.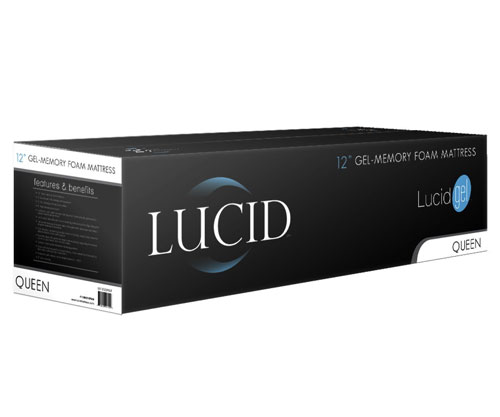 Where can I buy?
LUCID 12-inch Gel memory foam is a comfortable and cool mattress. If you aren't above average weight and want a soft mattress, this one is something you should consider. There are some online stores you can buy this gel memory foam mattress from, including the company's site. But after I compare all prices, I find the best place for a great deal is at Amazon. Click here for price
Details:
Available bed sizes: California King, Full, King, Queen, Twin, Twin XL
3-inch 4lb gel memory foam
1-inch 3lb bamboo charcoal memory foam
8-inch base foam
25 year warranty
FYI: This 12-inch mattress has two versions: Gel Memory Foam and Standard Memory Foam.