Mattress America Revive 12 Inch Gel Memory Foam Mattress

,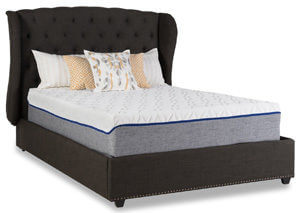 If you're looking for a cheap gel memory foam mattress, this Mattress America Revive 12-inch product is one of good options giving all you need. The amazing price allows you to bring it home and enjoy body conforming comfort without breaking your bank. That makes it also a great entry-level gel memory foam mattress for people who sleep on spring mattress in all life. Gel memory foam is fantastic feature loved by hot-natured sleepers, preventing them from sweating at night. Owners' positive feedback indicates that it does work and eliminate extra heat from the bed. Relying on unique memory foam characteristics, this mattress America Revive provides you a sound sleep without changing positions, and renews your spirits and strengths. It makes you feel refreshed after a comfortable sleep. The mattress isn't perfect. Don't hurry to pull the trigger. Follow this post as there is something you have to know before make a decision.
---
Mattress America Revive 12 Inch Gel Memory Foam Mattress Features
This 12 inch Revive Gel Mattress America is made up of three layers, 3-inch gel memory foam, 2-inch air flow foam and 7-inch thick foam base. The top gel memory foam is 5lb density mainly working for cushioning and cradling you to make you feel like sleeping in a cloud. The foam base offers solid support for your body instead of letting the mattress envelop you whole.
Free trial
Mattress America is offering 100 day free trial on their official online store. It allows customers to return the mattress within 100 days of the receipt. The free trial removes risk from us customers and gives over three months to us to back out. They pick up the mattress and issue a full refund. It's a great policy that make 12-inch Revive memory foam more worth a try because during 100 days we don't lose anything if we don't like it.
Back pain relief
Mattress America Revive 12-inch saves a lot of people from back, neck, shoulder and hip pain. Many owners complained that they managed very hard to find a comfortable sleep position on their old worn-out spring mattresses. The pain caused by the old mattress is eliminated by Revive. High density gel memory foam working with thick support foam removes all pressure points and aligns all pieces of your body where they're supposed to be. If you have any back pain or require a certain sleep position, memory foam mattresses like Revive might solve your problem.
On the firm side
Mattress America gives a rating of 6, 1 being soft and 10 being firm. That means the mattress should feel medium or medium to firm. Actually, a lot of owners rate it higher about 7 or 8. The rating implies the mattress lets sleepers sink in a few inches to conform to their body and then firm support kicks in. However, firmness or softness is more a personal feeling. One feels firm but the other feels opposite. For example, an owner weighing 200 lbs find it just right not overly soft or hard. Your weight is more needed to be taken into account.
Not Made in USA
Mattress America as the name suggests manufactures mattresses in America for many years. But this mattress isn't made in the USA but outsourced in China. Although being made in the USA not common within the price range, we buyers are disappointed when we know it's a China made product.
Click here to get lower price and free shipping
---
Mattress America Revive 12 Inch Gel Memory Foam Mattress Downsides
Didn't fully expand
This cheap Revive mattress has few flaws and most owners are satisfied with it. The only gripe some people complain is their mattresses didn't fully expand to 12-inches, only 9 or 10 inches. It's not a big deal. You can ask the seller or Amazon for exchange or return.