Signature Sleep 13 Inch Mattress Review

,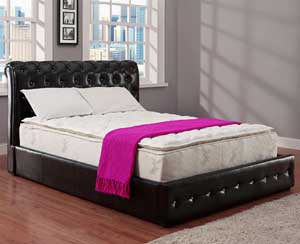 Signature Sleep Signature 13 Inch Mattress is a pillowtop pocket coil mattress. It uses memory foam pillowtop to offer incomparable comfort. Beneath the top layer are triple foam layers sitting on 9.8 inches coil spring featuring firm support for sleepers. With independently encased coil, the mattress makes a silent sleep for couples and saves people from morning pain and aches. Those buyers who rated it 5 stars found their significant the other was no longer waken up at night. The sleep quality has been improved a lot. Among all reviews, much kudos goes to easy installation. Owners said they just unwrapped it and watched it expanding. Signature Sleep has several great advantages for sleepers, pressure relief, motion transfer, etc. But it is still a joke. Why? Look at the warranty length. It's only 1 year limited. We could say it's the shortest warranty as you know most brands are offering 10 year or 20 year warranty. That's ridiculous.
---
Signature 13 Inch Independently Encased Coil Pillow Top Mattress Features
Firmness rating 5-6 (1-10 softest to firmest)
Signature Sleep defines the 13-inch mattress as a soft mattress in their advertisements. But it's not accurate according to owner feedback. The actual firmness rating is 5-6, which means it's medium. The coil spring offers solid support and the pillowtop lets you melt into it a bit. The combination of plush top layer and supportive base is well suited for people who sleep on their side. By removing pressure points, it allows arms and hips to get numb. The experience of sleeping on the medium firmness mattress may vary. The weight affects sleeping experience. People with above average weight may think it's too soft. The pillowtop is sewed on the bed and isn't removable. To avoiding mess up the pillowtop, you should throw a cover on it.
Great for adult activities
Signature Sleep 13-inch mattress is a hybrid mattress and exactly a coil spring mattress with thin soft foam. The soft foam top layer absorbs pressure and movements. It's a mute and doesn't make any noise especially when you and your partner do an intense activity. At the same time, the thick coil layer provides great bounce. All in all, it's a resilient, springy, quiet mattress, definitely good for adult activities, much better than all foam type of mattresses.
Made in China
Signature Sleep mattresses are imported from China. The manufacturer is the biggest bedding company in China, XILINMEN. DHP is the owner of Signature Sleep brand and selling mattresses in US. That's why their mattresses are so cheap. Like all other China made mattresses, Signature Sleep 13-inch comes in decent quality at a very low price. It gives us another economical option to replace a new bed without breaking bank.
Getting hot? No
If you know memory foam mattress, you may know the type of mattress holds heat. Signature Sleep 13 Inch Mattress is featuring a memory foam pillowtop and you may be concerned sleeping hot issue. Actually, memory foam this mattress's using is low density foam. In the memory foam world, low density holds less heat than medium or high dense foam. This mattress has no issue with getting hot. The memory foam layer is very thin compared with memory foam mattress and it wouldn't be an issue.
15 or 13.5 gauge, which the right one?
Many people find specifications of this mattress on the internet are different. Some people say it's 13.5; while some claim 15 gauge is correct. Here is the truth. Signature Sleep 13-inch Mattress is using 15 gauge individual coils around the edges; 13.5 gauge individual coil in the middle.
What is 15 gauge independently encased coils?
92% owners stated it was a firm mattress. Overall 13-inch height consists of 9.8 inches coil spring, 1.6 inch firm foam center layer and 1.6 inch pillowtop. Queen size 9.8 inch spring layer contains 744 15 gauge independently encased coils (Full size has 609 coils). Independently encased coils aim to ensure every part of your back gets targeted support and give you a pain free sleep. Such type of coils has another benefit, interrupting motion transfer. Each individual coil takes body pressure and can't be able to deliver it to its neighbors because they aren't disconnected. So you don't need to be concerned that the other feels you move.
Super easy to install
There is a video for installation on Amazon and you can check it out. It's super easy to unpack it. What you need to do is just carry it to your bed, cut out the plastic, pull the mattress out and leave it alone. The mattress will spring into its full shape.
Customer Reviews
Owners are satisfied with Signature Sleep Signature 13 Inch Mattress at three primary aspects. The first one is it is very easy unpackage and it doesn't require additional steps. Besides, the mattress lasts long and that is beyond buyers' expectation. Although it is imported from China, the durability is reliable. The last point is customers find firm support their back need on Signature Sleep Signature 13″ mattress.
"I cannot believe I was able to get such an awesome bed at such an affordable price!"
"Super comfy and excellent quality."
"Comfortable and firm and my daughter loves it."
"The mattress is not "plush" as described, but it is relatively comfortable."
---
Signature Sleep 13 Inch Coil Pillow Top Mattress Drawbacks
Warranty is a joke
Most brands provide very long limited warranty for their customers, usually from 10 – 20 years. But Signature Sleep warranty is the shortest I've ever seen, only 1 year. That's uncomparable and uncompetitive. Yes, if you do some searches, you will know that all mattress warranties are nonsense with ridiculous terms. That's not reason a mattress should have such a short warranty. Mattress isn't electronic product that is updated or refreshed yearly and needs long enough service after sale. This short warranty isn't different from other brands. It covers manufacturing defects in materials and workmanship, and sag greater than 1.5 inches.
May not good for heavy persons
Some heavy owners complained it was too soft. As we mentioned above, people weighing above average may not like it. Let's be specific that people over 300 lbs should reconsider it if you are going to buy it.
Indentation
Thanks to poor quality control of the manufacturer, some owners report their mattresses developed indentation where they usually lay in a few months. That's no doubt a defective product. If you buy from online stores like Amazon, you will have 30 free return window. It's good for avoiding defective mattresses. Hope Signature Sleep and DHP improve control on their products and manufacturers.