Tuft & Needle Mattress

,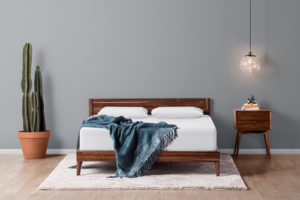 The 10 inch Tuft & Needle mattress consists of 3 inch polyurethane foam comfort layer and 7 inch polyurethane foam support core. Most memory foam mattresses only use polyurethane foam as support layer. It doesn't mean the mattress is not as good as memory foam mattress but components Tuft & Needle mattress is using are different from most brands. Their foam is also certified by CertiPUR-US so their mattress is free from harmful chemicals. Two types of foam have similar characteristics including pressure relief and less motion transfer, so people usually have the same experience. The top polyurethane foam is infused with gel beads to help keep sleepers cool, not waking up sweat.
---
Tuft & Needle Mattress Features
Fantastic free trial & return policy
Tuft & Needle mattress doesn't set it apart from other brands or it's amazing to impress consumers. They don't sell gimmick either. What they're good at is they know what we consumers are concerned about buying a mattress especially online without physically test. They're offering the best policy as far as I know. 100 days free trial for direct purchase from their own site and 30 days free trial for purchase from Amazon. The important point is they give full refund but don't charge you handling or transportation fees, which is $99 at least for other brands. Tuft & Needle advises customers to donate the mattress to a local charity and if there isn't local charity they will send people to handle it. Whether donating to charity or letting them take it away, you don't need to pay anything. Actually, their free trial policy that doesn't let us consumers lose anything is fantastic and everyone who want to buy a new mattress are willing to give it a try.
Too firm
Tuft & Needle describes this mattress not too soft and not too hard, a universal comfort. Like many other manufacturers, it's not true. The mattress is on the firm side not medium. In most cases, gel infused foam feels firmer than ones without. If you prefer a soft bed or want the feeling of sleeping on a cloud, this mattress isn't for you. Persons who are light and weighing not much especially less than 200 lb should also avoid because they can't impress or sink in a bit on the bed but only feel firm or hard. I would also not recommend it to side sleepers either. The top layer is too firm and doesn't allow pressure parts like shoulders and hips to sink. Pressure isn't evenly distributed and the spine isn't aligned naturally. That will cause back aches. If you feel the mattress is too firm, you can fix this issue by adding a topper.
No motion transfer
This Tuft & Needle is also light sleeper friendly. It means it doesn't make noise or deliver motion to the whole mattress. Once you fall asleep, you don't wake up by your partner no matter how many times he or she gets up at night. Other than that, both you and partner don't move or change position many times since both of you have perfect support on the mattress.
As for odor and sleeping hot issue
Odor and heat retention don't seem to be problems like most memory foam mattresses supposedly do. Many foam mattresses even CertiPur-US certified models come with strong smell that make sleepers dizzy and nauseated. Few Tuft & Needle owners report they notice fresh foam smell lingering for long time. There are also not many people complaining about sleeping hot. That being said the top gel foam does work for most people.
---
Tuft & Needle Mattress Downside
Not good for light side sleeper
It's not a great mattress for side sleeper. Since the mattress is firm, it's not soft enough to let sleeper sink in and get cradling support to remove pressure points. Lightweight people weighing less than $200 can't squeeze the mattress but feel sleeping on a marble.